Otto Feher
Management Consulting
Hungary
THOUGHT DRIVING METHOD
TheThought Driving: practice of systematic application of basic units of thinking. A method applicable for planning and controlling projects, processes, actions, meetings and everyday work in company management.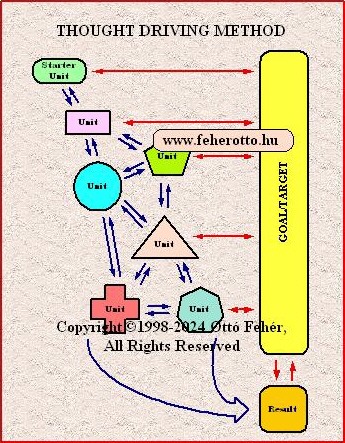 Time requirement:
No extra time for personal use, because it is part of thinking.
At the team work it helps the systematic way - time reduction.
Type: team or personal application.
Publication: 1998 Budapest, 1999 Cairo, 2001 Japan, 2003 Sofia.
Method application in a Hungarian Book:
Phone: +36 1 250 4573
Postal address: 1037 Budapest, Laborc koz 25/A. Hungary
E-mail: feherotto@t-online.hu

Copyright ©2002-2016 Otto Feher, SIRIUS Bt., All Rights Reserved
First issue: 19, July 2002.
Twenty-ninth update: 4, January, 2016.
A felhasználói élmények fenntartása érdekében a weboldal nem nyom cookie-t sehova!
Cookie free webpage.